Freetime is a time and energy management application developed for my IxD course.
The below video frames out the application, but this portfolio piece explores the process of its creation and design, from concept through UI and UX to user testing and working prototypes.
Dev
eloped for s
pecialization course at UCSD for Interaction Design
Project included storyboarding, paper prototypes, initial digital prototypes, A/B testing, statistical analysis & R programming, full working prototype, promotional video and article. All work done by myself, R. Dahm.
An Initial Storyboard began the exploration into people's time management skills:
Paper prototypes were made to address the issues seen in storyboarding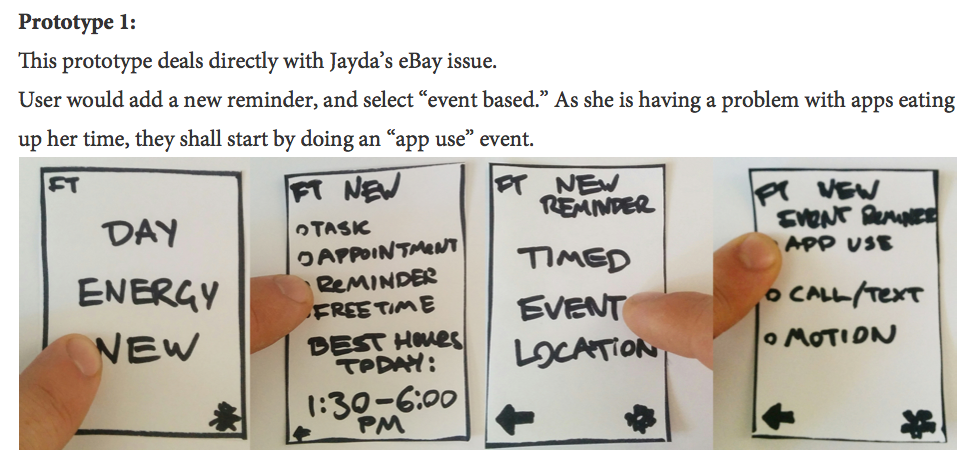 Another Paper Prototype explores the ability to add new scheduled items to one's day
Digital Wireframes were made to begin having real users test out the application
A/B Testing was done on two different UI setups. Below are A/B overviews and an example of live user testing.
Some raw user testing data was taken from the A/B testing, both in person and through the web.
Stat programming in R lets us take all the raw data and make sense of it, guiding our design choices based on user testing feedback.
And finally our finished prototype was shown to our entire class as well as the public. A YouTube promo video was made, as well as an article written on the proc
ess here:
Lastly, some screenshots of the final product as well as some process shots: